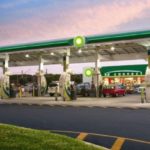 COMMERCIAL
These times demand increased solar protection. For a business it is all about reducing energy costs and consumption.  An upgraded glass system, taking advantage of today's advanced film products, provides improved temperature control while significantly reducing your air conditioning costs.  These films also help to protect your office or buildings interiors and occupants with strong UV protection while simultaneously providing added privacy and an enhanced exterior appearance.  From a cooler, more comfortable interior to reducing glare, these films will immediately provide many long term benefits.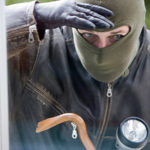 SAFETY & SECURITY
Every person wants to have peace of mind in both their homes and their place of employment.  By installing Security film it will act as an additional protective and invisible shield by offering protection from broken glass  as well as deter intruders who cannot readily penetrate the glass, even by striking it with a heavy object.   Safety & security window films are tested to the same break safe standards required of tempered glass, heat-strengthened glass, and laminated glass giving you an enhanced and effective level of added safety in your business or home.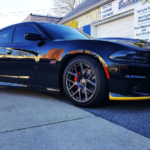 AUTOMOTIVE
Providing much more than just good looks and cool comfort, professional film installation applied to your vehicle also provides you with glare rejection and UV protection from the sun's harmful rays, keeping you and your vehicle's interior protected from the damage the sun can cause over time.  Here at Baltimore Tint we fully back up our extensive experience and workmanship with our comprehensive lifetime warranty.  We use Johnson Window Film's Marathon & ceramic InsulatIR lines of universal black shades to give you that close factory match and to provide your vehicle with that perfect appearance and comfort.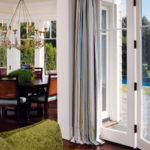 RESIDENTIAL
We all enjoy the bright, open feeling of our homes windows, which make it feels warm and comfortable.  Unfortunately, the same brightness of the sun exposes your interior to damaging ultraviolet light and heat.  Additionally, solar heat increases the temperature inside your home causing more AC usage leading to higher electrical costs.  By installing window film you can keep your home more comfortable while reduce up to 99% of harmful UV rays.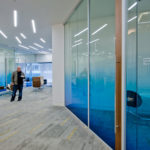 DECORATIVE
Perfect for controlled privacy, decorative or architectural applications any existing window can be converted to privacy glass in a multitude of attractive patterns bringing natural light into homes and offices; creating greater work productivity, as well as the illusion of more space while offering privacy.  Decorative Films are self adhesive and come in different patterns and shades which are easily replaced to update the appearance at a later time. Now you can turn any flat glass surface into a work of art.  Ideally suited for applications that require day or night privacy without sacrificing natural light levels in both commercial and residential applications.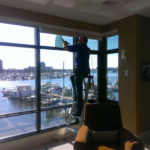 We only use the highest quality films designed for UV protection, heat reduction and glare rejection.   Our films do not just enhance the interior and exterior of your home or business but each film contains a scratch resistant hardcoat and some of the best warranties in the industry.
  Browse through the sections to the right to see some of our most popular window films, the differences, purposes and which may be the perfect match for your installation needs.